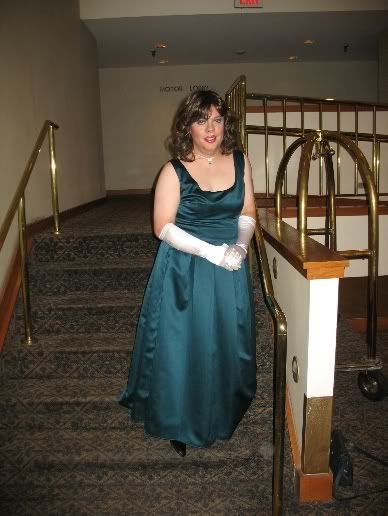 Today we will look at some general tips for shopping for formal dresses. Most of these are common sense, but many still overlook them. Again, everything here applies to both genetic and t-girls.
1. Start Early
I would suggest starting at least two months ahead of time before a planned formal. Add another month if it's during prom season. This gives you time to find the dress, have it altered, accessorize, and have a picture session ahead of time. Most of the nice shops have extra staff during the busy prom and debutante season and can work you into their alteration schedule. Make sure you have the same shoes and underwear you are planning on wearing when you go to have your dress altered. Don't skip or delay these appointments if you are shooting for a certain date. At Poffie Girls in Gastonia, NC, they worked with over 400 girls during prom season alone!
Now if you're not on a schedule, you can do the above at a more leisurely pace. Just understand that if you don't give a specific date during a busy period, you will probably be pushed to the back of their schedule.
2. Do Your Research
When you have a formal coming up, know what style of dress is on the invitation (semi-formal, black tie, etc.). Many shops are geared to specific events such as the prom and the debutante ball and will have the appropriate dresses in stock. Also look at the price range, and set a budget for your entire outfit including accessories. That is a number you can give to the store ahead of time. Finally research the dress styles by visiting online sites and reading fashion catalogs. That leads to the next tip.
3. Try Several Styles
Some events like a debutante ball are specific with the dress styles. Others are more open ended which allows you to experiment a little. Admittedly the number of choices can be overwhelming with different looks in length, cut, material, and color. Also add in the current fashion trends which can send you a direction you don't want to go, and the new dress buyer can be in for frustration. That is why it is important to try on several different dresses each time. Get into the habit of trying on something that you think you wouldn't like. You may surprise yourself! It is quite the experience when you find the dress that is truly you.
4. Accessorize!
Once you have found the dress, you're only half finished. The accessories truly complete the look. I love finding the perfect necklace and the right set of gloves with each of my dresses. It's like they were meant for each other. Also find a nice set of shoes. Even a second pair that is more comfortable for later in the night is not a bad idea. Schedule an appointment with your hairdresser, and have her help you. Don't be afraid to play with different hairstyles. For cold nights, find a nice fur coat or shawl. Mix and match as you see fit. Play with different combinations once you have your dress. Try the outfit on at least once beforehand with all your accessories to see how they come together.
5. Be Nice to the Help
While working with Jackie, the seamstress at Poffie Girls, she told me so many stories of snooty girls who couldn't find the time to stand still or get off their cell phones while having their dresses altered. She then told how nice I had been. When it came time to ask for some pictures, I know she was more than glad to help me out.
The moral of the above story is that it pays to be nice to people no matter the situation. However, many young women do not take the dress buying process seriously enough to take advantage of the best resource… the people. Be nice and respectful to the sales lady and the seamstress. They can make your life so much easier. They want you to be a happy customer so you'll come back. Don't be afraid to ask questions. They are professionals who have dealt with most situations and can make your dress buying experience as close to perfection as possible. Use their knowledge to your benefit, and be sure to thank them afterwards. It really will come back to you in a positive way.
6. Have Fun!
All of my dress buying trips have been on my own, and I have a blast each time. Even as a T-gal with an admittedly deep voice, I am not afraid to chat it up. I have the best conversations. I have been fortunate that most times, I have not been on a schedule for a particular event. Ninety percent of the time, I have seen a dress and picked an upcoming event that it would match. So I suppose I do things in reverse. I also love making a full girl's day out with a pedicure, shopping, and eating out. It is difficult to enjoy if it is one thing in an already hectic schedule. In short, don't just buy the dress. Enjoy the process and the day to the fullest.
I hope the above tips have been helpful. Each dress brings back memories not only of the times I have worn it but also how I obtained it. When I wear the dress and accessories, I am feeling more than just the material against my skin (which is wonderful in itself) but also the memories and emotions associated with it. I can think of few other things that have that kind of affect on me. It's a little like magic. Imagine that all in a dress. The discovery of that special dress is truly only the beginning.