In the old days of
Kappa Beta
, summer was a very quiet time. Since many crossdressers did not want to shave their legs and arms for fear of being outed, they simply went into hiding until they could start wearing outfits that covered more. Some had summer family obligations and did not want to embarass others by showing unshaved skin. I always feel for many of my married sisters who have to compromise in this way. As Dr. Phil says, negotiate everything.
We even had a prom of sorts in May called the Magnolia Ball. It was like a going way party. See you in September. You know I loved it being the prom queen. It went away after 2001 as it became too cumbersome to organize. If you're interested, here are the dresses I wore each year:
1998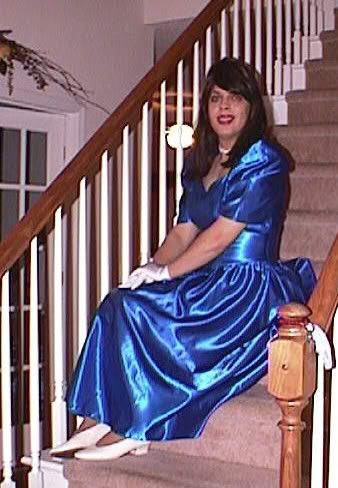 1999
2000 & 2001
Part of me misses those days. However, if this blog is any indication, I hope it's obvious I am not going back. I still like the pink dress though!
This summer has been quite productive particularly with
2008 Pride Charlotte
. The
CGA
booth was quite successful and gives us hope to take it to other festivals. Transgender Adventures in History was also a huge thrill. Telling my story makes me feel like I am telling the whole community's story. It truly is an honor. Here are a couple of pictures: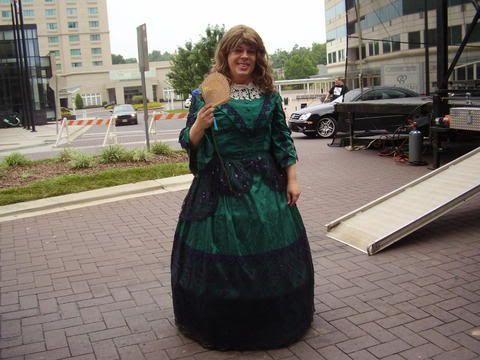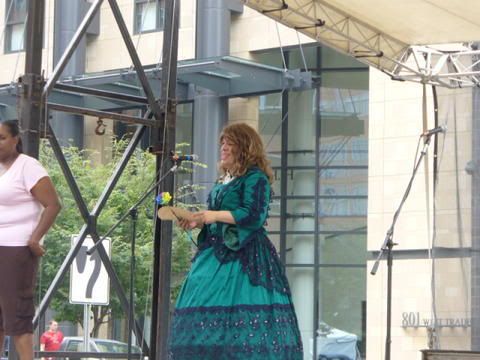 The thing about summer is that it must give way to fall. The season of fun turns more serious as the kids return to school, and the vacations end for the adults. It seems there is that period when my thoughts turn to the latter half of the year even with the thermometer in the 90's. I call it the summer doldrums because my mind and heart are ready for the fall activities... things like
Southern Comfort Conference
, Civil War reenactments, the fall fashions, high school football, and even the U.S. Presidential elections. Summer fun still beckons though. I even wore a short skirt for the first time in ages at Pride, and yet I look forward to wearing that green Civil War dress when the leaves start to fall. So fall is not all gloom and seriousness. It's just the work must continue, and so must the fun in its own way.
A couple other notes:
Congratulations to the
Durham Gender Alliance
on a successful first meeting. Victoria and Susan are wonderful representatives for the community.
I have also set up a
Flickr
page. Feel free to add me as a contact :) Now I'm being told I have to do Facebook! These social pages will be the death of me yet...