One of my frustrations in fashion for men and women is how we get stuck on certain trends. It is interesting to note in some of those old faded pictures from the 60's and 70's how everyone looks like they are dressed alike. Some of the styles would actually look fine for today. In fact, you can barely tell the era of the photo if not for the fading. Some styles look very dated and never return except for costume parties. I always wonder when fashion designers decide to put a certain style to death (pussy bow blouses for example).
There is a very telling scene early in the movie The Devil Wears Prada where Anne Hathaway's character Andera chuckled at the angst over the choice of a belt for a particular outfit. Merryl Streep's character Miranda then proceeds to figuratively undress Andrea by telling her the blue color of her now unstylish sweater was in reality chosen several years earlier as one of the "in" colors which then trickled its way into the less chic department stores. Miranda gave the very clear impression that they picked what we all would wear.
I many times feel the same way when entering a store. I have a pretty general idea of what I like... long flowing skirts, solid colors, not a lot of frill, no embroidery, and classic styles that will always match well with other outfits. When looking for formal dresses, I almost always go with long and poofy. I want the skirt to have some shape. If I don't find what I'm looking for, I usually will not buy anything. I have tried to get into the habit of trying on at least one piece each trip that I might not have considered. I am sometime surprised which makes it worth the effort.
This brings me to the title of the post. Friday I attended a high school football game that was also a homecoming. It was a great atmosphere with a full crowd and perfect weather. The home team is also having one of its best years ever and won this game as well. I have enjoyed homecomings to watch the styles of the dresses worn by the young ladies. I love the elegance of dresses, and they always look very pretty. I was disappointed this year though that all the ladies, freshman through senior classes, chose a very similar style as displayed above (from
David's Bridal
): v-neck, knee to tea length skirt. Not a single dress was longer than tea length. Now I know in recent years, some of the homecoming court would wear long ankle or even floor dresses. Not a single girl did this year. As lovely as they looked, I was still somewhat aghast at the sameness. Did everyone shop at the same store?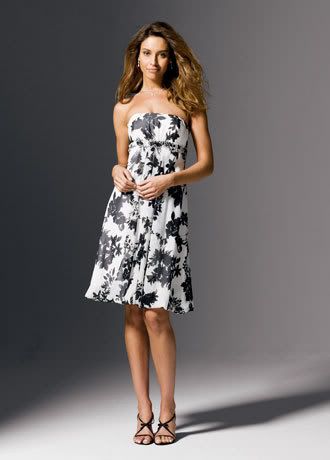 I even counted about four of the same dresses to the left. I usually don't get hung up if I see two or three women wearing the same dress, but four was a bit much. Even if another lady is wearing the same dress as me, I just think we both have great taste. However I know I am in the minority when it comes to liking the longer dresses. Shorter dresses are considered sexier not to mention easier to walk in. However the longer dresses are more fun to me. You can be sexy up top with a strapless or princess cut and still be a lady with the skirt. Of course, I love the rustle and swish of a skirt with a crinoline and the way it feels against smooth nyloned legs. It's an indescribable feeling. An even better feeling was knowing how unique I was with
my favorite dress
, and I was completely accepted for my uniqueness above and beyond the dress.
So here's to hoping that the longer dresses make a comeback in 2008. Even looking at the prom styles at websites, there may be hope for us yet.