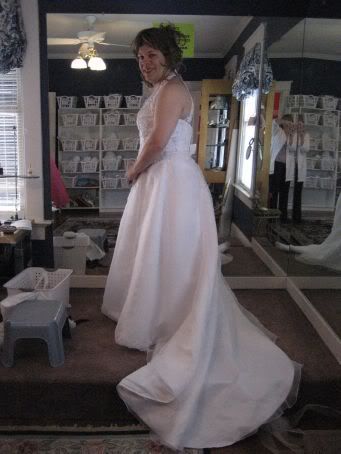 My latest dress that I'm showing in my pics has become very special to me, and I have not even worn it out anywhere! It is a debutante dress which for young ladies in the south is a dress worn at a formal gathering where the ladies are "introduced" to society (usually around age 17). This is funny to some because I came out as Stephanie nine years ago!
One of the things on my long-term "to-do list" was to buy a dress at a full service bridal/formal dress shop. I had always bought my dresses from eBay, online stores, yard sales, or Good Will and then had then altered later. I had never had the experience of having someone pick out some gowns for me and help me try them on. This is something I very much wanted as most women get to do this either for a prom or wedding. I thought it would be a very feminine experience. I also knew I wanted a debutante gown which fit very well with this experience as it would require some extra help.
I chose a place in Gastonia called Poffie Girls which is about a half hour from me. I only called ahead to make sure they had a good selection. I knew from their website that they were fairly well regarded. I did my full feminine routine and wore a blouse and skirt that would be easy to take off. I drove over on a Thursday morning when they were not as busy. I found the place easily enough. The shop is two story self contained building... pretty decent size and nice looking from the outside. I was gripped by fear as I pulled in and sat in my running car with the air conditioning on full blast for five minutes. I convinced myself that I had come this far, and it would be silly to turn back. I knew inside was my perfect dress. The worse they could say was no. I turned off the car, got out, and walked inside.
I was greeted by a middle aged lady at their front counter. She asked if she could help me, and I told her I wanted to buy a debutante dress. At this point, I was fairly certain I did not pass, but she politely asked which club I belonged to. I replied that this was not for a particular club but just for me. She called in another lady who asked me my size and what style and price dress I wanted. I told her what I was looking for (white, long, full skirted), and she had me fill out their order form. She then said, "Ok, sweety, let's get you set up with a dressing room." I felt the weight of the world fall off my shoulders as I knew they would help me out.
The lady's name was Vickie, and she brought out about a dozen white gowns. I was now in heaven with all this white satin. I tried on about six gowns. Each time, Vickie zipped me up in back and showed me how to walk properly in each dress. She treated me like a woman the whole time even complimenting me on my hair. With each dress, I stepped out into a hallway with three mirrors on one end. Vickie and I both agreed on two we like. I chose the one you see in the picture: the white halter top gown.
Vickie told me to call back once I had my shoes for a first fitting. Not one time did anyone refer to me as a man. It was very nice to feel like I could fully be myself and enjoy the experience.
I scheduled my first fitting, and Vickie greeted me again. She sent me upstairs to Jackie, their seamstress. Once I put on the gown, Jackie took me through all the measurements. When she fitted the bodice, I truly felt like I had picked the right gown. It felt wonderful! Jackie also commented that I was probably the nicest girl that had come through recently. She told me they work with about 400 girls during prom season, and most of them acted like spoiled divas! Something struck me when she said that. I actually enjoyed every step of the process. I enjoyed looking in the mirror and seeing myself in that beautiful white dress. It almost brought tears to my eyes. I'm not totally sure why except that I was overwhelmed by the joy of the experience.I will have my dress by the end of May. I am looking forward to setting up a photo shoot with my new debutante dress and hopefully several other dresses.
For those special girls who have a similar goal of going out and enjoying a feminine buying experience, I would say go for it. If a business is smart, they want your money as much as anyone. Long established businesses and well trained staff seem very open to serving us. Once you do it, it is an incredible experience.