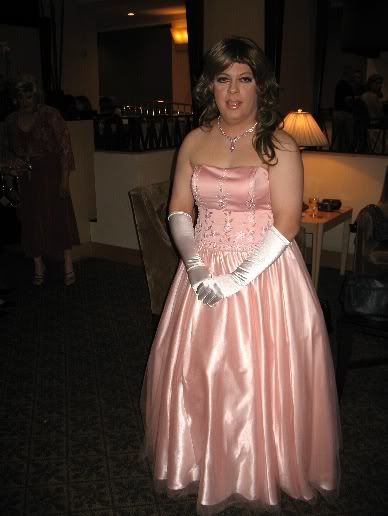 The first posting on my blog may seem rather trivial or frivolous, but I hope you'll find a deeper meaning in my choice of outfits. Those who know me know I have a love for prom, bridesmaid, and other formal dresses. I think they are the ultimate in feminine expression in terms of clothing. They feel luxurious and look so elegant. When I'm dressed to the nines in a social setting, I feel on top of the world. That feeling goes beyond the dress and the compliments. It is my symbol of a realized goal that I once considered unattainable.
One of my earlest memories of realizing I was different was around eight years old. My parents and I were invited to my grandparents ballroom dance. My grandparents were an elegant and graceful couple to the point where they competed competitively after they both had retired. My parents and I on the other hand rarely dressed up, but we attended wanting to be supportive of them. Of course, this meant I had to wear the monkey suit complete with ruffled shirt and powder blue bowtie. I knew I didn't like the outfit, but I figured it was just me being boyish. Everyone said I looked very handsome. What grabbed me that night though were the beautiful dresses worn by the women that night... long flowing skirts, the different colors and styles, the smiles on their faces. I knew they were all beautiful, but I also knew I wasn't supposed to dress like that. Women wore dresses... not men.
As I grew older, I did not have many opportunities to see women in formal dresses as we lived in a working class community. However, at my senior prom, I was once again mesmerized my the girls in their long dresses. Having the opprtunity to slow dance with many of them that night and feeling the material of their prom dresses against me only heightened my excitment. I wanted to wear one, but how?
College brought much more freedom and opportunities. I bought my first prom dress at a church yard sale for a $1. It was a lacy pink number that really did not fit me. I would drive to the local park late at night and walk around alone wearing it. I was also part of a fundamentalist church and was one day caught with it on. I was forced to throw it away... my first purge.
I graduated from college and also left the church where I had been caught. I scoured yard sales and probably bought about half a dozen dresses at various times. My guilt was so great about my cross dressing that I purged every time. I thought it would go away.
Then came the Internet and then my first call to Sherri Carmichael, the corresponding secretary at Kappa Beta (the local Tri-ess chapter), in January 1998. In our first call, she said they had a formal ball where they all got dressed up in April of each year. I went out for the first time as Stephanie in February 1998. On a trip back from the NC mountains, I stopped at a Good Will in Wilkesboro and bought a size 16 royal blue prom dress for $7. I tried it on at home, and it fit perfectly. I now had a dress for the ball and wore it with a smile that April.
As my collection of prom dresses grew, I ended up trading the royal blue dress with another gal. It will always remain my most special dress as it was the first I wore out as Stephanie. I have graduated to more luxurious dresses like the pink strapless ballgown and a debutante gown. Every time I put one of those gowns on, I think back to the time when I thought this was simply a dream... an impossibility. Each dress is now a sign of a goal realized, and that is the reason behind my smile.