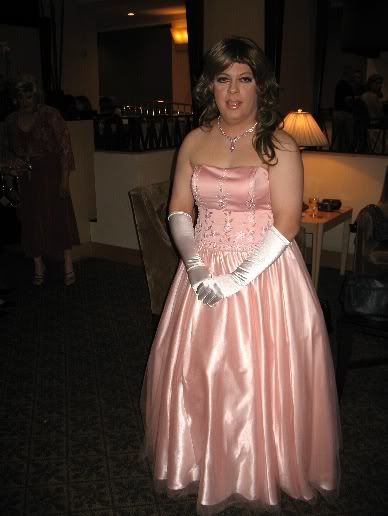 Will the madness never stop? How many dresses does she really have? And does she wear these poofy concoctions to the mall? The answers to these questions and many more, dear readers, coming up... but not today!
The above dress has become my favorite dress by far. I consider it dress perfection on many levels. First, it is my favorite color, pink. Second, the corset strapless bodice keeps all the extra stuff in. Third, the skirt is to die for... four layers, floor length, and plenty of "poof." The swish factor of the skirt is off the scale! Finally, all that room on the neck and arms leaves plenty of room for accessorizing.
The story behind the buying of the dress is almost as lengthy as the times I've worn the dress, and this may be the only one I can show you an actual catalogue picture. The color is slightly different, but it is the same dress: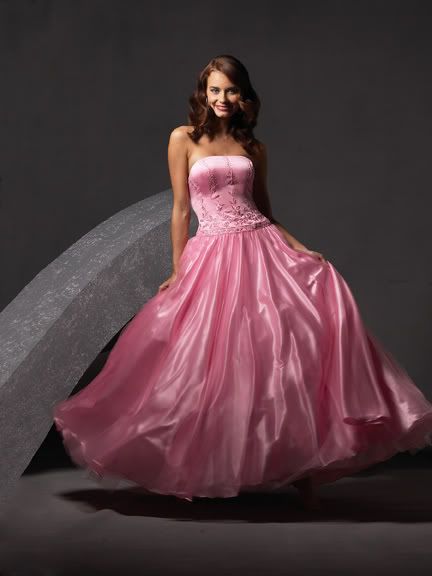 I saw this dress listed at several online stores in the $250-$300 dollar range. When I saw the pic, I knew I wanted it. However, in thinking about my wardrobe for Southern Comfort, I knew I had plenty of choices in formal wear (as you've already seen). So I reluctantly waited. I then saw the same dress on sale at a place called
Sydney's Closet
which sold plus sizes at discount rates. With shipping, the cost was $96. You didn't have to ask me twice.
I knew I was taking a chance with this dress as I had never worn a strapless gown before. But for the price, I had to give it a shot. When I got the dress, I was pleasantly surprised at how comfortable it was. However, the length was a little long, and the corset bodice needed some adjusting. I waited too long to get to my usual seamstress in Charlotte so I had to go in cold to someone in Atlanta. I ended up finding a wonderful and accepting place under a mile from the hotel operated by a lady named
Gizzelle
. She treated me so nicely, and she had my dress fitted perfectly the night before the SCC Gala. I very much enjoyed looking at the mirror and seeing me in that dress. Call that my first mirror moment.
The SCC Gala night was so fantastic as I love seeing everyone in their fanciest dresses. Particularly for us special girls, nothing beats a night of being dressed to the nines. The crew at
Transformations
did my makeup again, and I am never disappointed by them. They even put on some false eyelashes, a first for me! I got a ton of compliments on the dress. During dinner, I was sitting with my skirt all spread out before me. One of the waitresses walked by, smiled, and did a little sweeping motion with her hands. She didn't say a word, but it was a wonderful gesture. The only thing I hated was that I wasn't smiling in the pic. Something to work on...
I have worn this dress two more times. First was at the Kappa Beta Christmas party in December. Ok, maybe this is a little fancy for a Christmas party, but I wanted to wear the dress out again! When I left my hotel for the short ride to Hartigans in Charlotte, two young black ladies walking in complimented me on the dress. I love these encounters as it gives me more confidence in just being me. Returning to the hotel, the lobby had been invaded by Pittsburgh Steeler fans for the Panthers/Steelers game the next day. Clearly I was the best dressed woman in the hotel that night!
The most recent wearing was at the HRC Gala in February at the Charlotte Convention Center. This is by far the most mainstream formal event I've attended with over 1500 in attendance. It was also the first time the transgendered community had official representation at the event. We were very warmly welcomed and greeted everywhere we went. I had several people (men and women both) just walk up and compliment me on my dress. It was then I looked around at what everyone else was wearing. All the women wore dark colors, mostly black and chocolate with a few silver outfits. I was the only one in pink! But there was nothing wrong with that. In fact, I believe I was being commended for being myself. I dared to be different, and it was ok.
I may be making a bit much of one dress, but you can see why it is so special to me. I wonder if other women get the same kind of memories when going through their closet and looking at their outfits. I know I do, and that makes the dress more than just material and stitching. It becomes part of you and therefore part of your story.