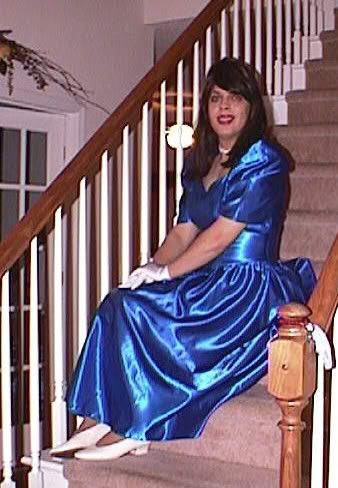 The series continues with my first "real" dress. I bought a few formal dresses before this one. However I purged all of them (sad but true) prior to going out en femme for the first time in February 1998. That is a story for another time, but the good news is that I have not purged in all the time I've been going out. I wore this royal blue dress to the Kappa Beta Magnolia Ball in May 1998. As such, it is very special since this is the first formal dress I actually wore in public.
The dress itself is a royal blue polyester satin with puffy short sleeves, longer in back than in fromt, and a little bow on the derrire. The dress is accessorized in white with the short heels, short gloves, and pearl necklace. It is not a style I would go for now, but I still love the dress and the pic.
I had been thinking about getting a dress for the Magnolia Ball (which used to be Kappa Beta's annual formal outing). I wasn't sure how I was going to shop for one since I was nowhere near comfortable shopping en femme at the time. I stopped at a Goodwill in Wilkesboro, NC on a trip back from the mountains. On a whim, I walked over innocently enough to the women's formal section where a few dresses were hanging. There I spotted this size 16 number for only $7. It was more of an 80's style prom dress, but I fell in love with it instantly. I knew my size pretty well so I went ahead and bought it. I tried it on at home, and the fit was near perfect.
Then comes the day of the of the Magnolia Ball, and I still needed some shoes. I went with my good friend Leilla McKenna to Hecht's at South Park Mall in Charlotte. I walked by myself to the shoes section where an older gentlemen found the size I needed. He treated me like a lady the entire time putting on and taking off the shoes for me. This is what I consider my first true feminine shopping experience. Leilla gave me numerous pointers along the way and encouraged me the whole time.
The Magnolia Ball itself was wonderful. Beforehand putting on the dress, I can't say I had a mirror moment. I still wasn't particularly good with my makeup. As such, I still saw a man in a dress. My first real mirror moment would come a few months later. That night it didn't matter. I was Cinderella going to her first ball/prom. I had agreed to be part of a lip-sync act that night. I also did much of the music. I also remember a very nice woman named Theresa helping me with some makeup tips afterward. That is something I still enjoy no matter how long I do this... beauty tips!
The whole night was like living a dream. This was something I had fantasized about since seeing my grandparents at their ballroom dances. I was a young woman wearing a beautiful dress along with many other women. It didn't seem possible. Only a few months earlier, I was still in the closet. Now I was really out.
I wore the dress a few more times over the next year. I gave it away to a chat friend in Portland. The royal blue dress still holds a special place in my heart. Everytime I put on a formal dress for a ball or gala, I think back to this dress and this night. This dress made the prom queen come to life. For that, I will be forever grateful. Pretty good for $7!